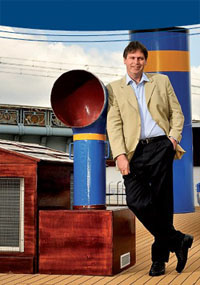 I began to be interested in boats from a very young age: when I was just 4 years old, I was already sailing my father's small sailing boat during our holidays.
When I was about 7 years old, I began taking sailing classes on Optimist. Then at 9 years old I was learning to sail on "Hoodlum", and at 11 years "Skiff OK" and 390 on a sand quarry close to Paris.
A little later, I had my first boat, a "Fennec" on board which I began to learn about regattas on the St Quentin pond beside Trappes.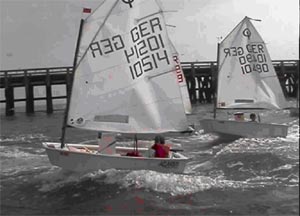 As I found it difficult to find regular team members, I exchanged my "Fennec" for a "Laser", a single-man competition stormsail , with which I continued to perfect my sailing skills.

Every summer, I continued sailing with my parents on the family boat.

By the time I was almost 17, I had had the opportunity to sail almost all stormsails around at the time and I had even taken my first "steps" on quillards during small cruising courses. It was during this time that I created my first company (in fact, it did not really belong to me): a Sailing Club at my high school.

Having finished my secondary education, I took a Business Studies course at the "Institut Superieur de Gestion" (ISG).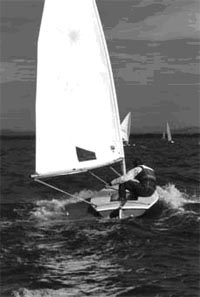 This school particularly interested me because it encouraged the creation of 1901 French Law associations so that the students are right away confronted with the basic rules of management.

I therefore benefitted by being able to create a small association which taught me a lot and also allowed me to travel to destinations which bore so many magical names for the inexperienced 20-year-old young man that I was: Bombay, Kathmandu, Delhi, Bangladesh …
It was also during this time that I created my first "business enterprise", a limited company with 20.000 Frs as share capital , thanks to some savings of my own and 15.000 Frs which my parents had entrusted to me in order to grow my capital!
My office was modest: 6 square metres, but I had a telephone.

It is from there that my first company began, enabling me to cross all boundaries!
Equally, I think that I also fell into all the traps it was possible to encounter when creating a business as well as making all the silly mistakes it was possible to make!
During this time, I continued to sail, but less often because of lack of time; it was during this time when, with friends, we rented boats, sometimes in Corsica, sometimes in Greece and these holidays left good memories for the future.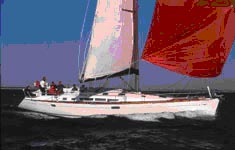 At 27, I wanted to achieve more; I had started to be involved with real estate. Unfortunately, my timing was bad and it led to me facing heavy financial difficulties during the crash of real estate prices which happened in 1990/91.

During this time , I had a fascination with old comic strips, and I started to reread all my albums which I had jealously guarded in my library. One of them made me dream; it was about Lucky Luke and was called "Sailing up the Mississippi".

Between them, the race between "Daisy Belle" and " Abesto D. Plower" of the commander "Lowriver" haunted my nights.

It was at this moment I told myself that Paddle Wheelers on the Seine, would be tremendous. After all, it was to the Frenchman, Jouffroy d' Abbans, that they owed the principle of the paddle wheel, and surely the Louisiana was not the last bastion of French culture in America?
At this time, this type or craft was nonexistent on the Seine. The only company which really operated in the tourist market was " Bateaux Mouches", known all over the world.

To launch a Paddle Wheeler on the Seine in Paris, to throw parties with a Louisiana theme appeared to me to be a good idea, all the more so as she would breathe the festival theme, whose Jazz was born on the quays of New Orleans.

I therefore began by going to the United States to search for all the information on Paddle Wheelers I could find. I came back with my head full of ideas and started to sketch a boat which whilst looking like the Paddle Wheelers of Louisiana, could also pass under the low bridges of Paris.

So " Louisiane Belle" was born, which I undertook to have constructed in a shipyard in Paris for which the building of such a boat would be 'a first'. For that reason I decided to entrust the project to one of the well-established companies in Paris, because I still did not know much about the job of managing boats on the Seine.

At the same time as the " Louisiane Belle" I decided to construct a similar but smaller Paddle Wheeler, which was intended for my personal use and enjoyment of sailing on the river. I called her "Mississippi".

" Louisiane Belle " fast enjoyed success as there was nothing remotely similar in the Paris region, or even the whole of France. To get married on board such a stunning Paddle Wheeler with the bride dressed as Scarlett O'Hara and her husband as Rhett Butler, was truly something!

With the collapse of my property business, I had lost all that I had earnt in the previous 10 years. So, I found myself with a boat whose income barely covered her costs and nothing else...

That's why I decided to transform "Mississippi" into a passenger boat so that she could also host smaller functions and boost my income.
All at the same time, I was a pilot, a stewart, a disc-jockey and a mechanic...sometimes a cook!
It is on the "Mississippi" that I took my first steps learning how to manage a river boat company.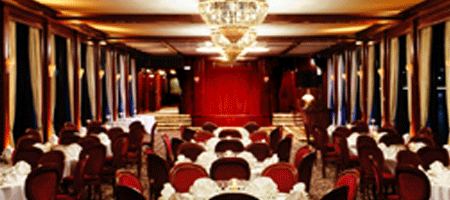 Thanks to word of mouth, "Mississippi" enjoyed more and more success, which enable her in 1996, to gain a younger sister, "Tennessee", named in honour of the famous song by Johnny Halliday, the famous French crooner.
Since I was in such a position that I coudn't get loans from a bank, I told my story to private lenders who with their financing enabled me to move forward and fund "The Tennessee".
Constructed next to Gennevilliers, in Villeneuve-la-Garenne, in a small naval shipyard with an enthusiastic and really nice team , "Tennessee" was the perfect, not too big, but not too small boat.
Since then, I had acquired a real head office, on the bank of the Seine, at the foot of the Mirabeau Bridge and for the first time, my company began to actually resemble a company, albeit a small one.
Two years later, in order to strengthen my foothold, I started construction of "The River Palace" at the same admirable shipyard as before. This boat was not a Paddle Wheeler, because I had decided that this one should be in the art deco style of lofty ceilings 3,80m high and huge Bohemian crystal chandeliers.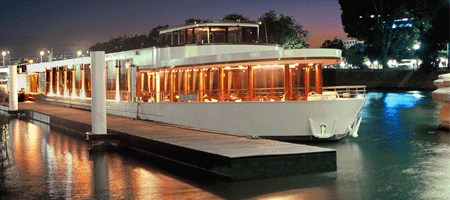 The first customer of "River Palace " was the National Audit Office. I remember it well because the certificate of seaworthiness for this new ship was issued to me only one day before their event! Since then, I have learnt to leave myself more time for administrative details.

In 2003, after more than ten years good and loyal service from a boat not originally intended for commercial use, it seemed to me that the time had come to allow "Mississippi" to take her well-deserved retirement. I also decided to build a new, somewhat larger and more comfortable ship whose success was assured from her launch as her size was still modest and therefore no great threat to the giants of the Seine.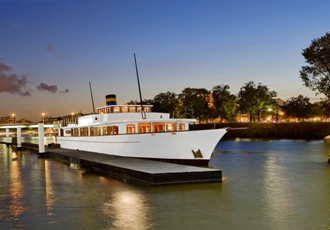 For some time I had nurtured the idea of constructing a classical Yacht; the world of Superyachts has fascinated me for many years. I never miss the " Monaco Yacht Show " with its fabulously rich boat owners in search of perfection and I amuse myself by wondering how much it is all going to cost to them.
I am definitely not in their league, but a nice boat, yes; a nice boat which can be rented out, even better; indeed necessary for me.
To solve such a conundrum took me years of preparation. The result is "Clipper Paris".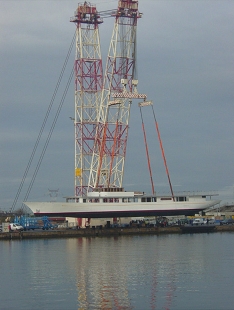 Her birth into the water in the basin of Penhouët, Saint Nazaire, that most mythical place of shipbuilding, took place on December 2nd, 2006.

In the twenties, my grandfather had created a firm which carried out interior decoration of ships. His customers were the "Compagnie Générale Transtalantique" company, the "Mixte" Company, the" Paquet" company, etc.
Eventually my father and my uncle took over the reigns.
To be an interior decorator of such liners required an artistic talent which I unfortunately did not inherit. I could not therefore continue their business, even though I personally enjoyed being in charge of the decoration of all my own boats.
When I chose Saint Nazaire rather than Istanbul, Gdansk, or any other more financially favourable destination to build the ship, it was in some way due to nostalgia. It was also, not by chance that in this historic place, I found at the dockyard SMCN, a very professional team, led by a warmly enthusiastic management. The decision to build there was then, really rather more for ethical reasons: after all if everybody is going to build his boats abroad, what should there remain?
Different to any of the other ships belonging to the company, "Clipper Paris" will be furnished as a "Lounge" to provide a new dining concept, the " cocktail cruise ". Instead of being formally seated at dining tables, the guests will lounge on Chesterfields and their meal will be served to them in small ramekins, or other appropriate dishes.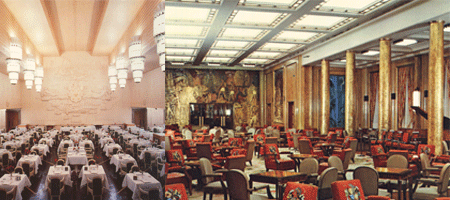 The traditional restaurant has numerous charms, but the " cocktail cruise " will bring companionship, originality and the freedom to come and go on board the ship; to use the upper deck when the weather is fine or the interior rooms when it is better to take shelter for a while.
The architecture of "Clipper Paris" has nothing in common with any boat presently sailing on the Seine. Drawing inspiration from Yachts from the beginning of the 20th century, it captures all their old charm and characteristics.

This new ship will convincingly prove that it is possible to change the service industy; it will hugely enhance the enjoyment of those who serve and will therefore inevitably benefit those who accept this innovative and gracious service.
After "Clipper Paris", perhaps there will be other Clippers for other locations, but most definitely there will be other ideas for sailing or living on water.
Ce service est conçu et géré par Seine Alliance, sas au capital de 2.000.000 € RC Paris 477 550 917